Must I Submit A Sitemap To Google?
Submitting a Google sitemap is one of the simplest SEO chores you can undertake. Sitemaps will show Google's search bots what information they need to crawl and when new content should be indexed.
The major reasons for submitting a sitemap to Google Search Console will be discussed in this lesson. We'll also talk about the distinctions between XML and HTML sitemaps and an HTML sitemap. We'll also go through the distinctions between an XML and an HTML sitemap.
Here's A Rundown Of The Numerous SEO Advantages Of Uploading Sitemaps:
Your sites will be crawled more quickly by Google Search robots.
Your website's content is now completely searchable.
If new material is uploaded to the site on a regular basis, search rankings will improve more quickly.
Site links will be included in your organic search listing.
Google will be able to better grasp the structure of your website.
Many website owners assume that sitemaps aren't required as long as sufficient interlinking is done. Despite the fact that this is true, most individuals are unaware of how to correctly interlink their websites.
What, On The Other Hand, Do Search Engines Like To Use?
When indexing websites, search engines prefer to utilize a sitemap. It's also one of the most efficient SEO tactics for achieving high search engine rankings.
Let's see if a sitemap is necessary for your WordPress website.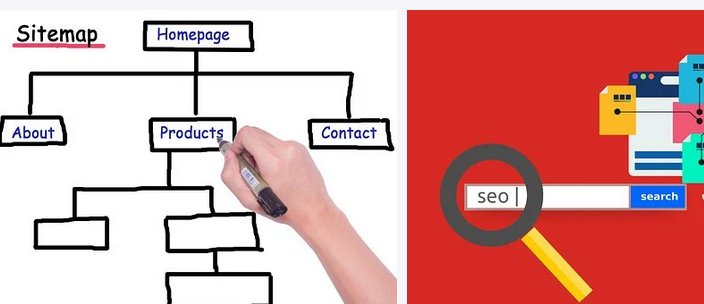 Do I Need A Sitemap For My Website?
There are a few elements that will decide whether or not your website needs a sitemap:
Sitemaps are essential for your website design in general.
Sometimes, you might not even need a sitemap. If you have a website with little content, you can interlink pages.
Sitemaps may not be beneficial for many niche websites with only 15 to 20 pages of content. A sitemap would be beneficial for a website with hundreds of pages of content.
Search engines find it more difficult to understand complex websites. A sitemap is a great tool if you don't know how to link between pages.
It doesn't take much effort to create a sitemap.
Uploading your sitemap to search engines is simple. They may then use the sitemap to crawl your website. When you alter the content on your site, your sitemap will update immediately.
Having your sitemap automatically updated is a terrific method for search engines to keep up to date. Sitemaps give search engine bots useful information about your site's pages so they can discover them again and again.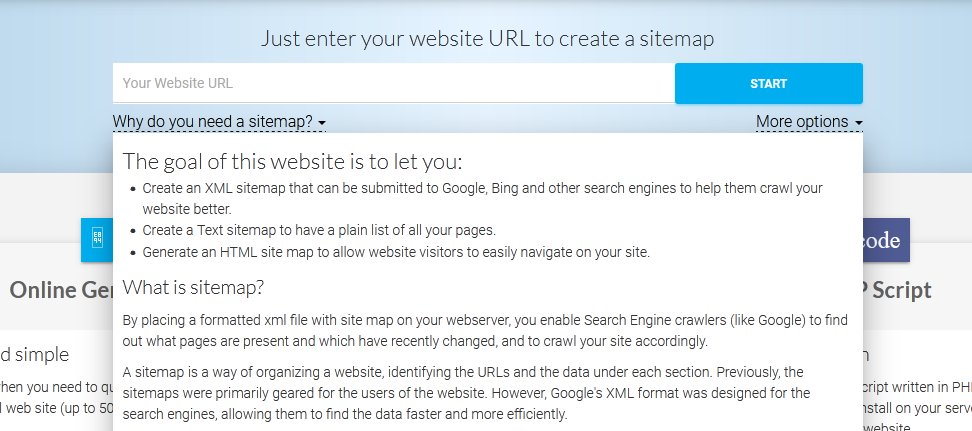 Sitemaps can provide details such as when pages or posts were generated and when they were last edited. A sitemap also displays how significant pages on your website are in relation to other pages.
By having all of this information available, Google and Bing can index your website more quickly. If your website is new, you can also be indexed faster.
Is It Necessary To Have A Sitemap For SEO?
Sitemaps are a great asset to your site in almost all cases. A sitemap is essential for SEO because it helps you get indexed faster in search engines. Google won't penalize you if you don't have one. This is something they have said repeatedly and it benefits you as well.
What's The Difference Between An XML Sitemap And An HTML Sitemap, Exactly?
Are you aware of the differences between an XML and an HTML sitemap? You must first choose which sitemap is the best before submitting it.
An XML sitemap and an HTML sitemap are different in that they are intended for different people. An XML sitemap can be read by search engines, while an HTML sitemap can be understood by people.

An XML Sitemap is used by search engine spiders to comprehend the specifics of your website. The XML sitemap file allows Google and Bing to quickly discover the most significant areas of your website.
People who are looking for certain pages on your site can benefit from an HTML sitemap.
HTML sitemaps can help you improve the user experience on your website. Sites that make it simple for people to engage with their content are rewarded by search engines. Let's speak about how to make a sitemap quickly now!
How Do You Make A Simple Sitemap?
A sitemap is simple to make. First and foremost, I propose that you install All in One SEO Pack or Rank Math, both of which are extremely effective SEO plugins! They're not only an excellent sitemap plugin, but they're also an SEO plugin that can help you develop SEO-friendly resources.
Other sitemap plugins, such as Yoast SEO, are also worth looking into. All in One SEO Pack or Rank Math, on the other hand, are two products that I heartily suggest.
My next lesson will show you how to make sitemaps with any of the SEO plugins that I suggest. You'll also discover how to submit sitemaps to Google and other search engines.
Submitting a sitemap to Google and other major search engines is definitely worth the effort. Except for a few minutes of your time, you have nothing to lose.
It's time to save your settings and build a sitemap when you've completed customizing them using AIO SEO Pack, Rank Math, or any other plugin.
You'll need to submit your sitemap to Google Search Console or other search engines once it's been created. You must submit your sitemap to search engines manually. It simply has to be submitted once to each search engine.
After the initial submission, your sitemap will be preserved in the search engine panel. When you upload or change content, it will be immediately updated.
Conclusion
Any search engine that has access to your sitemap will fetch and index it automatically.
Start by registering or logging in to the Google Search Console and providing your information. In the section "Submitting Your Sitemap," follow the precise instructions provided by AIO SEO Pack or Rank Math. thanks for reading and please do drop your comment in the comment box below to get me being more innovative.
I SHALL STOP HERE FOR NOW, TILL THE NEXT UPDATE.
IF YOU TRULY WANT TO LEARN HOW TO BUILD MONEY-MAKING WEBSITES TO MAKE YOUR RECURRENT PASSIVE INCOME, I AM SURE YOU NEED TO HEED TO MY ADVICE.


 If you've been running about and thinking about leaving the online world as I did before coming into contact with WEALTHY AFFILIATE during black Friday. I also joined; Leadsleap, ShareASale, Walmart, Atlantis, Udimi, Fiverr, Clevenard, PLR. Brax, etc you're darn lucky too, but only if you take action by starting immediately. Can I Make Money As A Wealthy Affiliate Starter Membership? This is the greatest online platform to get started generating money online for free, even if you have no prior expertise. Build your WEBSITES, Build your FUNNELS, Use JAAXY KEYWORD Tool for free and Build your business today with SEO content and you will be able to swim on money tomorrow, just like many others in WA.
If you truly want to learn any make-money skill online, JOIN HERE FOR FREE,  Wealthy Affiliate is the place to be with maximum training and support if you want to build a successful business online. JOIN HERE NOW FOR FREE, and take a walkthrough. Wealthy Affiliate is no "SCAM" and is the place to be with all kinds of training and support. I am having success in my business while training with WA.
Thanks for visiting this site and please don't leave without commenting below. May your God bless you real Good as you join this legit business platform and avoid SCAMS. CLICK BELOW TO CHECK OUT MY BLOG.
GODSPOWER STRONG aka GODSTRONG.