The path a customer takes before making the final purchase is known as the customer purchasing lifecycle ( This means the different phases a customer experiences before, during, and after a transaction).
what is the customer purchase lifecycle "converting traffic to sales?"
It will be simpler to sell to your customers if you have a deeper understanding of them. The actions a person takes from the time they first discover a product or service until they actually make a purchase are referred to as "customer comprehension."
Let's look at some known facts about a customer:
(1) Customers hardly ever purchase a thing on their first encounter with it.
(2) A user typically visits a website or subscribes to an email newsletter seven times before making an online transaction.
(3) Consumers avoid doing business with somebody they don't trust.
(4) Clients are exchanging "money" for an item that will make their current position better.
(5) Consumers now have greater access than ever to product details and reviews.
(6) The majority of consumers are turned off by fraudulent promotions and can spot them.
In order to enhance your odds of someone "purchasing," rather than having to guide them through all points of contact, I'm going to demonstrate how to snag people later in their buying cycle. The selling procedure will be greatly streamlined as a result!

5 stages of the customer lifecycle
The five stages of the customer lifetime include reach, acquisition, conversion, retention, and loyalty. The customer lifecycle incorporates the customer's experience even though it is comparable to the buyer's journey. We'll go through each of these phases one at a time.
1. Reach
A buyer searches for a product at this stage after becoming aware of a dilemma or issue they must resolve. Your brand should be visible to this customer through social media marketing, SEO, search engine marketing, and other inbound and outbound strategies. Because you have the opportunity to reach the buyer during their deliberation, this stage is called "reach."
Before making a purchase decision, persons who are "product aware" become familiar with a notion. This "learning" can be obtained from the media such as television, Facebook, Twitter, a magazine, a Google search, or a famous person.
Due to the fact that the internet is the "information highway," people tend to flock there to finish their investigations. The greatest strategy during this stage is to sign individuals up for your mailing list or get them to follow you on your social media accounts (Facebook, Twitter, Google+). The majority of research is done online because a quick Google search may turn up information on almost anything. People are more likely to return to your site later if you can keep them interested in your material at this stage.
2. Acquisition (Decision Phase).
Customers have officially entered the acquisition stage when they visit your website or give you a call. You'll have to address the client's inquiries and worries. The best goods or services will then be offered in order to meet their wants. Every encounter is a customer care touchpoint, even something as straightforward as someone visiting and utilizing your website.
However, most people will go through a choice phase where they investigate a variety of goods and services and select the one that best suits them.
Reviews and the unique viewpoints of others might easily sway a person's decision. A skilled Internet marketer can intervene at this point, present specific, high-quality products to the person, and make a sale.
People at this point are typically looking for product reviews or further product insight via their favourite online channels, whether this is reading blogs, doing research on Google, asking people on Facebook, or sending out a tweet.
The best approach at this stage: This is a very good phase to pick up potential "customers". At this point, it is best to review the products or services that the person is looking for. Sometimes people are looking for negative reviews and you can also leverage these as there are many "debunk" products out there, in almost any market. Typical keywords within this phase revolve around the review, scam, comparison, information, and versus (comparing one product to another). People are very likely to buy at this stage if they feel comfortable with your review and you can build immediate trust.
3. Conversion (This is the Purchasing/Action Phase).
You want to be clear that you are adding value at this point. They've established a bond with you beyond a simple transaction. However, the work is not yet done. It's time to keep the customer loyal to your brand so they keep buying from you.
The final phase is the one that is profitable to us as Internet marketers. No commissions will be paid unless there is an action that takes place! Whether this is a click, a lead, or a sale, a visitor needs to become a customer to fulfil the lifecycle.
During the purchasing phase, it is very difficult to detour someone from their purchasing decision. They have done their research, made the decision, and now are fully prepared to buy. In an ideal world, you would be able to target all the people within this phase, but often times the research and searching are complete at this point. An example of a search term that would target people within this phase would be "purchase product_name, order product_name, buy product_name, best price on product_name".
The best approach at this stage: The ultimate goal is to get someone to this point, whether you are able to do so by manually walking them through the process, or you catch people in the decision phase and help them buy. If you are targeting the keywords as mentioned (the buy type keywords), you simply want to point people in the direction of the product they are looking to buy (through your affiliate link of course) and you are sure to convert very high. This is the ultimate phase to catch someone in, but it is the most difficult to hunt these "ready to buy" crowd down.
4. Retention
Finding out the client's feelings is the first step in customer retention. To learn what you can do better, conduct customer service surveys, calculate your Customer Satisfaction Score, and set up a Voice of the Customer program. Perks like round-the-clock customer service, product discounts, and referral bonuses can turn a customer into a brand advocate.
5. Loyalty
When a customer reaches the loyalty stage of their relationship with a brand, they become a valuable asset. They might write product reviews and share social media posts about their interactions with your business, which could help a prospective client.
These are the normal steps a client takes in their relationship with a company, but this process can be flexible. Brand loyalty does not appear out of thin air. Through service interactions that address their problems and demonstrate the worth of your product, it must be fostered and established in the customer (and your brand).
Customer comprehension Varies

Customer comprehension is a variant that is tricky to deal with. How do you teach someone that "thinks" they know exactly who their customer is, but they are completely off base?
You have to follow certain metrics that prove that you understand exactly who your customer is. These are the determining factors at it comes down to how well you know your niche. Your answer should be YES to the following questions:
(1) Do you read regularly about your niche?
(2) Can you effectively communicate with others in your niche?
(3) Do you comprehend customers' issues?
(4) Can you come up with your own "pros and cons" for each customer situation (product, service, etc)?
(5) Do you understand the core problems within your niche?
You should comprehend all of these, if you don't, then you need to spend some time in the trenches learning about your niche and the customer idiosyncrasies. Let's look at an example.

If you were selling golf clubs.


If you are trying to sell golf clubs online, where would you start? What keywords would you try to target?
If you were to deliver traffic coming from general keywords like "golf" or even a keyword phrase like "golf clubs", chances are you would have a low conversion rate. The reason that "golf clubs" won't convert is that you're picking up this visitor too early in the purchasing life cycle.
People are frequently seen looking for irons, putters, drivers, wedges, or speciality clubs. It will be far easier to persuade people who are searching for these terms to buy than it will be to persuade someone who is searching for "golf clubs." In a perfect world, you would hyper-target users who type in terms like Taylor Made r5 Driver or 56-degree Cleveland Gap Wedge.
And the ultimate search terms, the ones where the person is in the "action phase" would be terms like:
where do I buy Taylor Made r5 Driver
the best deal on Taylor Made r5 Driver
buy Taylor Made r5 Driver online
Taylor Made r5 Driver eBay
purchase Taylor Made r5 Driver
Although it takes far more effort to comprehend every stage of a golf club's life cycle, there is a broader audience when you are marketing golf clubs. Understanding your customer and what they are actually looking for is crucial.

You should view any advertisement you encounter in a newspaper, on the radio, or in a magazine as a chance to fully utilize these customers online. Additionally, consumers who view advertisements offline are probably considerably further along in the purchasing process. This is because they are more familiar with the brand, are aware of what the business offers, and could be prepared to make a purchase.
If it is in a magazine…
If you want to attempt and sell them something, it is preferable if it is sold online (not always the purpose of your traffic). For instance, when someone sees an advertisement in a magazine, they often go online to learn more about the product, the cost, and where they can get it.
Anyways, someone that read this ad in this day and age and was a true customer, would likely go online to research this Rolex Watch along with others. Perhaps they might even buy it, perhaps they are a watch collector and you could get them on a list and sell them watches and accessories (high end of course). This is a case where you can leverage Rolex's offline marketing campaign to drive your online business.
What About All of Those Late Night Infomercials?
You must employ both purchase and product review-type keywords to benefit from the corporate promotion. Infomercials can be used to your advantage as a powerful kind of company advertising. If a customer is familiar with a brand and has seen an advertisement before visiting your website, they are more likely to make a purchase.
By the time someone is finished watching an infomercial, they have already decided whether or not they want to purchase the product. As orders could only be done over the phone in the past, most individuals chose to do so. However, many people now order infomercial merchandise online.
Search keywords that include the product name or the name of the company that makes the product being sought are considered to be "product related." One of my earlier examples, the Rolex watch, served as an illustration of how using product words might be advantageous. Product-related keywords are underutilized by many advertisers. However, there are MILLIONS of products and services. This same principle can be applied to all of them.
A Little Example.
As an illustration, if someone was looking for "wealthy affiliate," they might have first looked for "affiliate marketing" and discovered a page promoting Wealthy Affiliate. Because they are informed about the topic and have already been exposed to some type of branding or commercial, people who search for product-related keywords are usually extremely far along in the purchasing lifecycle.
If you are looking for "wealthy affiliate reviews," you have probably already done a lot of research and are in the decision stage. To determine which degree would be most suitable for them, they conducted further research and analysis on universities that offered courses linked to Internet marketing. Finally, they look up Wealthy Affiliate, a program they are interested in joining.
What was the last purchase you made?
 Let's take a minute and look at the last purchase that you made online…
1. What were your starting and ending points?
2. Did you make a purchase on the same day you began looking? If not, why not?
3. Have you encountered either favourable or negative product advertising?
4. Before seeing it online, did you see the product or service in a magazine or on television?
5. Was the cost concern for you? If not, why not?
6. What step did you get to in the analyzing process before you bought the product?
7. Did you seek out buying advice on Facebook or Twitter?
Examining the process of making an internet purchase can teach you a lot of things. Reverse engineering your own client behaviour will provide you with a wealth of knowledge about the purchasing process. You undoubtedly go through a lot of the same procedures that customers do when making purchases. In the beginning, you might find that your study differs significantly from others, but by the end of the process, it will be similar for all consumers.
Your relationship shouldn't end—or, ideally, shouldn't—once you've guided consumers through the buying process. In fact, there is a further stage that I have not yet discussed, but I will do so in this paragraph. The Long Term Customer phase is the final stage after the Initial Customer Purchase Lifecycle. In order to manage and arrange these customer interactions, you will require contact information. Get them to email you for a bonus or help at the point of the initial customer action to do this. In either case, you could establish contact with them via social media.
Remember who your customers are at all times. in doing this, remember to put yourself in the shoes of your customer, in fact, "YOU are a customer", leverage that!
Individually Targeted Products and Promotions Are a Powerful Way to Close the Sale
The data you obtained throughout the awareness and comparison stages when you classified your visitors and determined their top concerns, will frequently determine your capacity to provide the appropriate product and incentive. Your capacity to blur the distinction between online and offline will more and more determine your level of success. Create three piles of invoices:
one for new customers, one for recurring customers, and one for clients who were referred by friends while you analyze your invoices and sales records. It will become easier and easier to persuade your potential clients and customers to make a purchase to the extent that you have allowed them to provide information about themselves.
Several questions to increase the seriousness of your website's sales
1. What kind of incentives can I provide potential customers to entice them to make their initial purchase from me?
2. What other product categories may I provide to my customers? What additional goods or services are likely to be purchased in addition to my main offering? Your response to these inquiries will assist you in creating co-marketing or affinity-based initiatives.
3. What goods or services must be used up quickly or will they eventually expire? Examples of disposable goods and services are whale-watching cruise tickets that expire the moment the ship leaves port and winter coats that get harder and harder to sell as summer draws near. The best premium content coupon incentives are disposable goods.
4. Which goods and services are so lucrative that  I can significantly discount them and still make a healthy profit—or are worth selling at a loss to create a new customer?
5. Where can you find chances for online transactions, such as room reservations, that will lower your operating expenses and enable you to lower prices for all consumers or, even better, provide far deeper discounts to registered visitors?
6. What packaging pricing advantages do you have to offer, like packages with two or more goods or services grouped together at a discounted rate?
7. What co-marketing possibilities can you create with companies that are complementary to your own? Can you design evening out packages that include free parking, reduced lunches at a nearby restaurant, and free corsages from a flower shop, for instance, if your art gallery is located downtown?
8. How can you use the seasonal effects on your business to produce premium content rewards for visitors who have registered? For example, what incentives can you offer based on important holidays or your registered visitors' birthdays and anniversaries?
Strategies for Transforming Your Traffic into Leads and Sales
When Only a small portion of website visitors really convert, You can get the conversion and sales you've long desired by doing the following steps.
1. Attract the Right Traffic
You may check to determine if you are attracting the wrong kind of customers by auditing your SEO approach. But what do "bad" keywords actually mean?
They are:
Unrelated keywords to your website. Let's take the scenario where you manage a culinary blog. However, phrases like "best denim" pop up throughout your URL and sites. The wrong keyword is that.
Overly general keywords are another issue. for instance, "shoes." The person who asks the question might be searching for information on sneakers, the best method for mending a damaged shoe, the definition of a shoe, etc. Avoid using such buzzwords.
keywords with no purchasing content Think about two hypothetical guests A and B. A searches for "Nike sneakers" and discovers a website for sneakers. The only difference is that B uses "red Nike sneakers free shipping." Who is most likely to buy something? You are aware of the solution.
Your potential customers for a Saas product will probably be on LinkedIn rather than Facebook or Instagram. Therefore, before you go social media smart or click bait, check to see if your website is ranking for these keywords and make the necessary corrections.
2. Keep Your Website Design Simple
The user experience on your website can be enhanced by keeping the design simple. The user experience on your website will determine how many conversions you obtain. Of course, you don't have to be uninteresting in the name of simplicity. The secret is to combine elegance and simplicity. Which of these two websites, for instance, has a better aesthetic appeal?
3. What Makes You Better Than Competitors?
In other words, visitors must rapidly understand what sets them apart from the competition. You won't lose customers to your competitors if your free trial is longer than others. But occasionally, things turn chaotic in the following ways: Before arriving at your website, a visitor is likely to have visited four or more others.
4. Take Reviews Seriously
Remember the last time you bought stuff on Amazon? You most likely checked to see what other customers said about the product before making a purchase, right? Using a WordPress plugin, you may import reviews from your Google My Business page to your Amazon website.
5. Display Testimonials
Just like reviews, testimonials, as well, are important for improving conversions.
Here are some interesting facts that prove that testimonials are the real deal:
1. 92% of consumers are more inclined to buy a product if a friend or family member recommends it.
2. Even if the advice comes from a complete stranger, 72% of people will still buy.
3. Online reviews are trusted by 88% of users as much as personal recommendations.
4. Testimonials increase conversion rates for visitors by 58%.
These are enough reasons to take testimonials seriously.
Like reviews, you can add testimonials to your website via a plugin such as; Testimonial widget, Strong testimonial, etc. These are some good plugins – for WordPress.
6. Make Your CTA Buttons Shine
What specific action do you want website visitors to take? While having a catchy CTA is key, getting the placement right is much more crucial. Would you like them to look at your product line?
A compelling CTA button that attracts clicks is one thing, but positioning it where it will receive the most notice is quite another. Here are several placement strategies you should test out. As soon as they arrive on your website, they will automatically scroll down.
Another is to put them where they will be seen the most.
1. Of course, the fold is above.
2. Irregular locations below the fold. For instance, in a blog post
3. Sidebars
4. A persistent menu bar
7. Stop Directing Visitors to Your Homepage
Visitors should no longer be directed to your homepage because it is no longer active. Instead of sending them to generic pages, they won't find useful, send them to pages that offer the most value. And selling the product to as many people as you can is your objective.
8. Be Generous with Freebies
Enjoying optimal conversion will remain a pipe dream unless you address the "why should I care" query that's boiling in the backs of your visitors' brains. Freebie marketing is useful in this situation. Freebies are a tried-and-true marketing tactic that has been used for ages.
So, what freebies can you give away?
1. free trial
2. Free delivery
3. Special offers and coupons
4. No cost consultation
5. Free download
Generally speaking, the freebies you distribute ought to be worthwhile. Otherwise, your efforts will be in vain.
9. Gamify Your Visitors' Experience
Games are entertaining and effective boredom busters. To generate more leads and sales, incorporate game components into your website. With spin-to-win popups, customers can play the fortunate wheel game in the hopes of winning a coupon, which is one simple method.
10.  A Product Suggestion Is Required
You can customise the experience of your website visitors in addition to segmenting your audience by adding product recommendations.
As the name suggests, product suggestion is proposing to website users goods or content that they are likely to find interesting and useful.
Here's one on Amazon: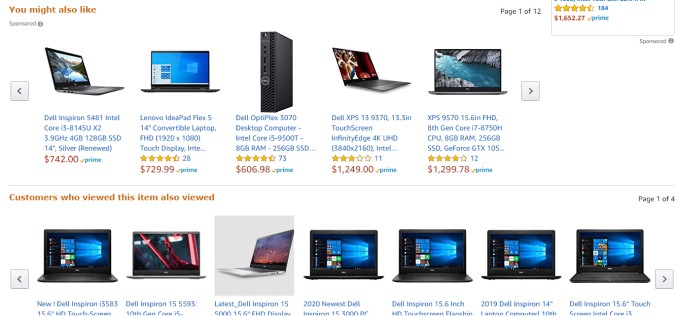 And did you know that product suggestions account for 35% of Amazon's sales?
This is unequivocal evidence that product suggestions are effective.
Your sales will skyrocket if you suggest goods that are most in line with the interests and tastes of your visitors.
Surprisingly, Adoric can also be useful in this situation. You can suggest items to your visitors using our recommendation algorithm depending on:
1. Unrelated goods
2. Most popular
3. Top sellers
4. Purchased jointly
5. Just lately viewed
11. Capture Exiting Visitors
Our inherent human nature is to flee when faced with an unpleasant scenario. This may help to explain why visitors to your website don't stay long before leaving. Exit-intent popups are helpful in this situation.
With exit-intent popups, you can:
1. Inspire customers to finish their checkout. This will aid in lowering
2. abandoned cart
3. Expand your email list to get additional leads.
4. Invite users to complete a survey
5. Encourage consumers to contact you.
6. Promote deals, rebates, and lead magnets.
12. Up Your Game with Two-Step Popups
Have you attempted exit-intent popups as well as conventional popups, but received no useful results? Users must complete two or more steps before completing an action in a two-step popup. If they select No, the popup disappears and no more questions are posed.
However, if they were aiming for "Yes," they would then be redirected once or twice more until the action was finished. A two-step popup, sometimes known as a multi-step popup, requires visitors to complete two or more steps before completing an activity.
13. Offer Money Back Guarantee
If done correctly, providing a money-back guarantee might actually help your business expand. Want some more compelling arguments? By doing this, you establish the basis for developing potential clients' trust. It also helps to lessen, if not completely eliminate, the dread and doubt that your visitors will experience while trying to buy from you.
A money-back guarantee will help to:
1. Encourage more individuals to test your goods, which will increase sales
2. Give you an advantage against rivals
3. Eventually bring you more sales
14. Track Your Conversion
With Google Analytics, you can have direct access to the vital information you require to efficiently track your conversions. You may use Google's comprehensive tutorial to set up conversion tracking on your website. You are able to decide how to increase your conversion by using Google Analytics to make wise, well-informed selections.
15. A/B Test Your Ideas
When you A/B test, you test various concepts side by side to see which is more effective. For instance, if you find that exit-intent popups aren't working, try employing a gamified popup as a substitute. When you realize this, don't start beating yourself up; it's not your fault; it's just the way things are.
The customer relationship management lifecycle In Summary?
The route a consumer takes up until they make their last purchase is known as the customer lifecycle. It outlines the many phases a client experiences prior to, during, and following a transaction. A client connection goes through five fundamental stages, which can change depending on the situation.
The beauty of the customer lifecycle lies in the fact that it's nonlinear, meaning it follows a cyclical pattern at the end. Customer retention is the end goal in developing strong brand loyalty, but your business needs to continually offer relevant and timely messaging to prior customers, otherwise, your top-of-mind awareness will quickly fade.
The customer lifecycle can help your business maximize the revenue potential for each client who makes a purchase on your website. Once a customer has become a brand advocate, the potential for upselling increases as a result. New product features, releases or exclusive offers are also a great way to progress consumers through the lifecycle. As long as you post and publish content and messages consistent, relevant and in tune with their needs, you can turn one-time buyers into loyal customers quickly. thanks for reading and please do not commit the sin of leaving this site without creative criticism and edifying comment please. I appreciate your comment anyhow.
I SHALL STOP HERE FOR NOW, TILL THE NEXT UPDATE.
IF YOU TRULY WANT TO LEARN HOW TO BUILD MONEY-MAKING WEBSITES TO MAKE YOUR RECURRENT PASSIVE INCOME, I AM SURE YOU NEED TO HEED TO MY ADVICE.


 If you've been running about and thinking about leaving the online world as I did before coming into contact with WEALTHY AFFILIATE during black Friday. I also joined; Leadsleap, ShareASale, Walmart, Atlantis, Udimi, Fiverr, Clevenard, and PLR. Brax, etc you're darn lucky too, but only if you take action by starting immediately. Wealthy Affiliate (WA) is the greatest online platform to get started generating money online for free, even if you have no prior expertise. Build your WEBSITES, Build your FUNNELS, Use JAAXY KEYWORD Tool for free and Build your business today with SEO content and you will be able to swim on money tomorrow, just like many others in WA.
If you truly want to learn any make-money skill online, JOIN HERE FOR FREE,  Wealthy Affiliate is the place to be with maximum training and support if you want to build a successful business online. JOIN HERE NOW FOR FREE, and take a walkthrough. Wealthy Affiliate is no "SCAM" and is the place to be with all kinds of training and support. I am having success in my business while training with WA.
Thanks for visiting this site and please don't leave without commenting below. May your God bless you real good as you join this legit business platform and avoid SCAMS. CLICK BELOW TO CHECK OUT MY BLOG.
GODSPOWER STRONG aka GODSTRONG.